Welcome to NYIAC: The Place to Be for International Arbitration
I'm delighted to welcome you to the NYIAC homepage.  Within its contours, I invite you to stay updated on all things New York, from events, to institutional resources, to content from our Founding Firms and Advisory Council, to our member directory, in addition to many other resources and member benefits accessible while logged into your portal.  Don't hesitate to reach out with any comments or questions.
---
NYIAC Celebrates 10 Years: September 20 Grand Central Forum & Anniversary Celebration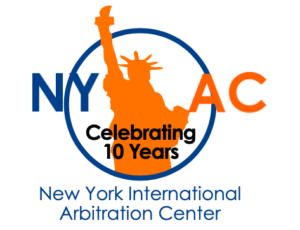 Please join us in dialogue and to raise a glass for this special celebration.
Event Details
NYIAC Grand Central Forum & 10th Anniversary Celebration
Date: September 20, 2023
Venue: New York City Bar, 42 West 44th Street (between 5/6 Avenues)
Topic: 
Selecting New York Law for Cross-Border Transactions — A Wise Choice?
---
Need hearing services? We're here to help!
Hearing Offerings
NYIAC is available to facilitate in-person and remote hearings. We have working relationships with several hearing venues, including JAMS (New York Times Building, 620 Eighth Avenue at 42nd Street) and the New York City Bar (42 West 44th Street between 5/6 Avenues).  There are a variety of room offerings at these sites to fit your case needs, complete with video and audio conferencing capabilities, translation booth, business center, and reception.
Please send an email to  with your hearing details to request a quote.
---
Listen to NYIAC's Audio Library
NYIAC has hosted a wide variety of virtual events. From addressing issues of pandemic and force majeure, to a spotlight series on Latin America, to growth in the life sciences industry, this audio library is your one-stop-shop for audio content.  Missed a program?  No problem.  Search through and click to listen.  Interested to learn more about a specific topic?  Submit a program proposal here. For future events check out our calendar and our weekly events mailer.
NYIAC's recent programs are available here
---
A View into our Events and Community
---
COVID-19 Resources
Please review NYIAC's compilation of COVID-19 resources from Institutions and our Founding Firms here.
---
Connect with us on Social Media